175 Water Street
New York NY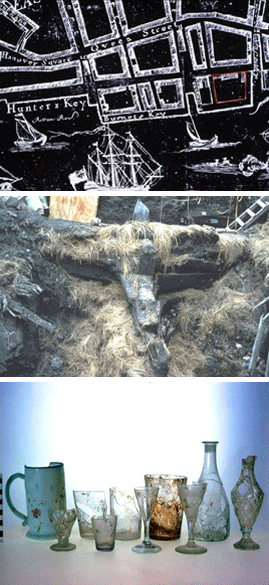 The 175 Water Street site, located on the seaport block bounded by Water, John, Front, and Fletcher Streets, a private development site, encompassed a city block created by land reclamation from the East River in the 18th century. An archaeological investigation conducted under the direction of Joan H. Geismar, Ph.D., in 1982 uncovered the wharves and piers that structured the west side of the block as well as a 92-foot merchant ship incorporated into the cribbing on its east side. In addition to documenting the techniques used by its British Colonial creators, the investigation documented the block's development over time. The more than 310 thousand tabulated artifacts and 17 tons of weighed material revealed that the landfilling process spanned almost half a century. They also revealed trade networks and, economic and social factors, the latter including the diversity of the block's inhabitants and, by extension, of colonial New York.
John Street, the block's northern boundary, was formerly known as Burling Slip. The archaeological investigations in the vicinity of the slip provided samples of the debris discarded over time in the former slip as well as the trash-laden debris later used to fill it.
The 175 Water Street project was among the city's first major archaeological sites in its golden age of archaeology. The spectacular findings documented the history of 18th-century colonial landfilling as it revealed hitherto unknown aspects of life in the seaport over time.
Award:
Certificate of Merit, The Municipal Art Society, 1982